Newport Solar
We are a local, family-owned, and operated, full-service company focused on designing and installing efficient and robust SOLAR Energy Systems in Rhode Island.
We employ over a dozen experienced professionals, and we are committed to delivering excellence to our customers at every step.
After 2+ decades in construction, we got the Solar "spark" early in 2008 and transitioned to focus solely on solar; we first installed solar for ourselves and soon began working with a growing base of customers interested in renewable energy. We have been designing and installing high-quality Solar Energy Systems in Rhode Island for over 10-years, adding almost 4 Megawatts of solar capacity in our state for over 750 customers and counting.
We are focused on providing Solar Energy Systems that deliver clean and renewable energy to Rhode Island residential and small commercial customers. 
Our broad renewable energy expertise includes:
We LOVE the power of the sun!
Newport Solar is a recognized solar energy leader in Rhode Island. We directly work with our State and elected officials in the creation of sustainable energy programs and policies. 
These programs and policies provide more affordable renewable energy to Rhode Islanders and our involvement assures our customers share this benefit.
We're proud of our reputation and happy that our customers agree.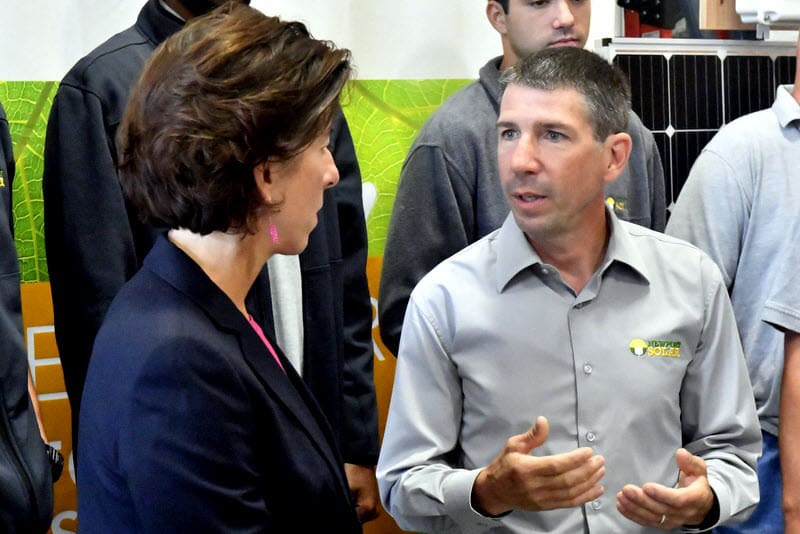 RI Gov. Gina Raimondo & Newport Solar's Owner Doug Sabetti
We'd love to work with you too!