Electric vehicles will likely represent 90% of cars on the road by 2040, effectively replacing ICE (Internal Combustion Engine) vehicles. This monumental shift will be driven by reductions in the costs associated with manufacturing, operating, and owning an electric vehicle.
In a growing EV market, from 2020 through 2025, a major US car manufacturer has allocated $20 billion in capital to refocus their company on an all-electric car future. This focus includes releasing 20 new electric vehicles by 2023 and a target of 1 million EVs sold per year by 2025. They have staked their company on this strategy. 
ICE Cost
Driving an average of 13,500 miles per year, with an average fuel efficiency of 25 miles per gallon, an Internal Combustion Engine (ICE) will consume around 540 gallons of gasoline per year. At $2.50 a gallon, that is about $1,350 in gas. With oil changes and other consumable expenses, the cost of ownership could be over $1,600 per year.
EV Cost & Savings
The average electric vehicle today gets ~3 miles to the kilowatt-hour. If you drive that same 13,500 miles per year, that is ~4,500 kWh of electric consumption. In 2020, RI electricity costs ~$0.21 per kWh. However, solar installations in Rhode Island have an average per kWh cost of about $0.07. Even with 100% EV charging at home, it could cost $315 a year without comparable consumable expenses.
With the consistently low cost of solar electricity, an EV could save around $1,300 per year. Gasoline prices, on the other hand, are not stable and fluctuate frequently.
EV Chargers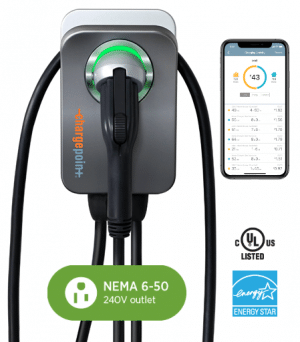 Newport Solar works with several manufacturers and has experience installing car chargers for many of our customers. We like the features, and robustness of both the Tesla Wall Connectors and ChargePoint EV chargers. Our customers have also had positive feedback on these charging systems. Both have advanced functionality that allow you to monitor charging as well as control them to produce the lowest cost of ownership.
Solar and EVs
Electric Vehicles pair perfectly with a solar installation because they allow you to drive using the low-cost energy generated from your solar array. Several of our customers have chosen to increase the size of their proposed solar installations to produce additional energy for efficiently charging their EVs. If you are thinking of having Newport Solar install a solar array, it would be a great time to consider an EV and a home EV charger as well. Contact Us to learn more about charging your car from the sun!
Note: This is a Supplemental Service – Newport Solar provides car charger installation services to both past clients and clients who wish to include a car charger installation in parallel with their solar installation*